Summer Pennant Final 2017
Beastly Boasters v Dedans Bruisers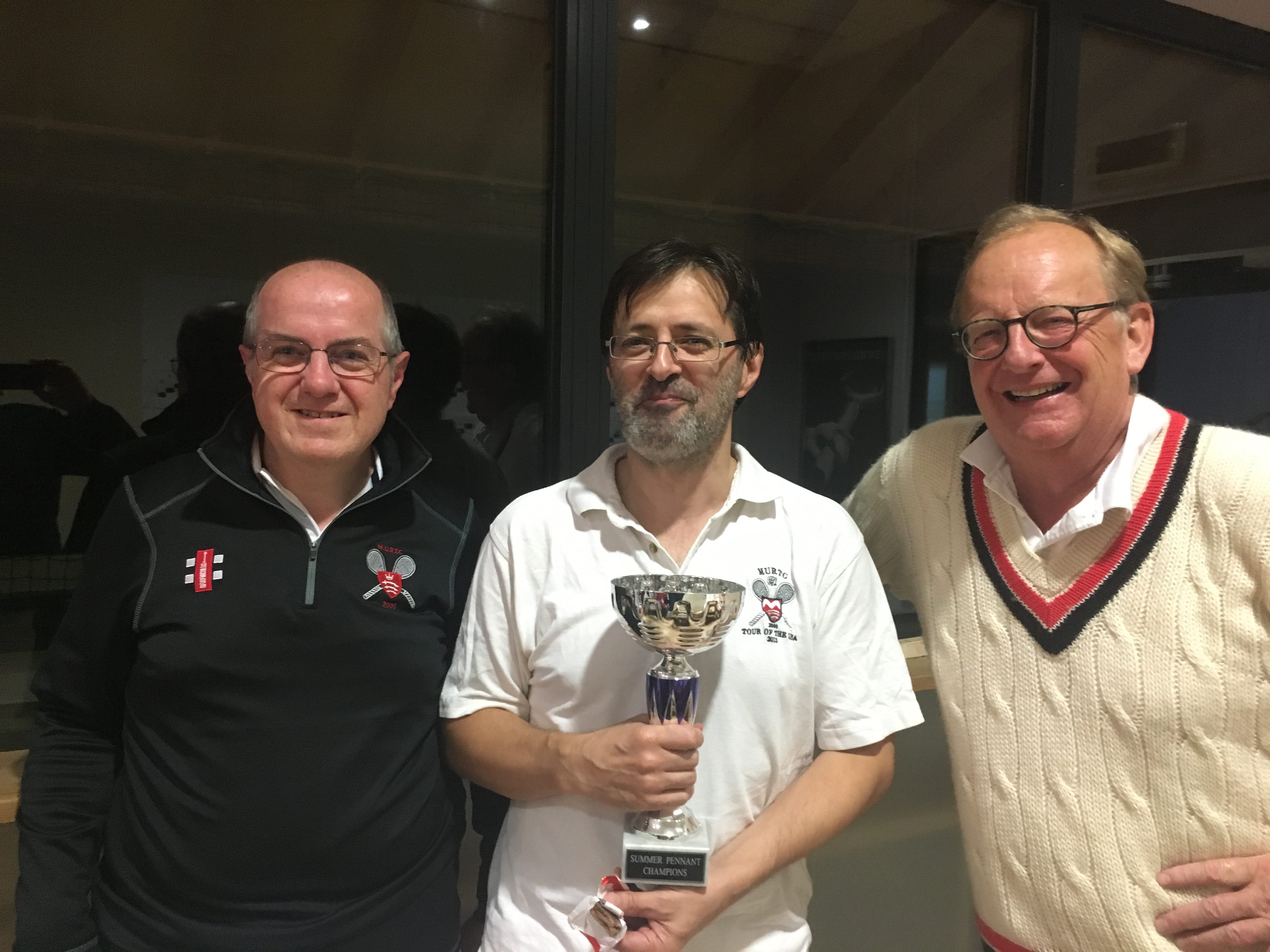 The Boasters finished top of the league, and were straight into the final. The Bruisers sneaked into the semi-final, and battled to a win and a place in the final, for the third time in four summers.
First up it was Zuzana Botkova v Tim Harrison, a left-handers match. Tim started well, but after some errors, found himself 2-4 down. He got a second wind, and triumphed 6-4, those railroad serves hitting the spot. Yuri Kugler and Peter Fisher were next up, an even start, then Yuri pulled away to what seemed like a winning position at 5-2. Peter, on the other hand, had not thrown the towel in, and his never-say-die attitude won the day by 6-5 ! The final singles saw Freddie Jacobs v Charles Trevor, Charles looking for revenge for the loss in the round-robin match. Sadly it was not to be, and after a hard-fought set, Freddie was victorious, 6-5. After 3 matches, it was Bruisers 2, Boasters 1.
Onto the doubles, and it was Peter and Tim facing up to Yuri and Zuzana. What looked a tricky game on paper turned into a procession of hard-hitting and accurate strokes from the Northerners, and a 6-1 win to put the Bruisers in the driving-seat. Could Yuri and Freddie rescue the tie for the Boasters, or would Peter and Charles bring the cup home ? More fantastic tennis from the Bruisers, and it was all over at 6-3 and 4 sets to 1, with one set to play. It was approaching 10:30 as the final four hit the floor. Tim and Charles found themselves behind to Zuzana and Freddie, but picked themselves up, suddenly found their range, and sealed the win by 6-4.