There was a buzz in the Dedans as the night began. King and Lewis were warming up – the stage was set for the 2017 pennant final!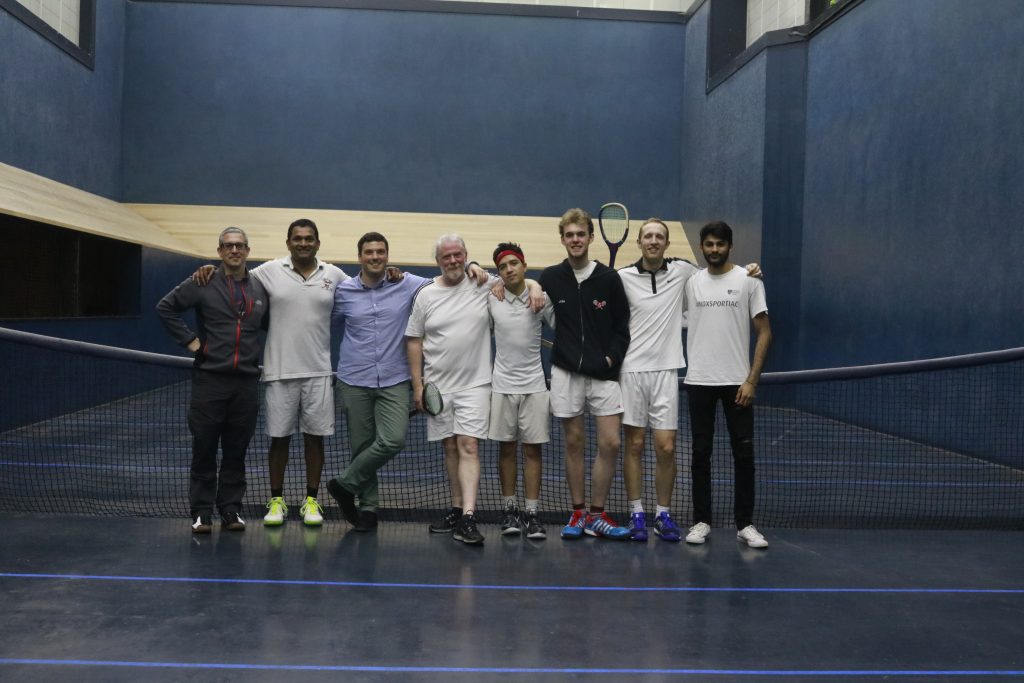 The game commences first blood to Lewis 1-0, King rises to the challenge making the most of the handicap and playing some beautiful shots 1-1.  Lewis loses the 3rd game King leads 2-1, King takes a lead in the 4th but Lewis fights hard retrieving it from 40 love down 2-2. King is not disheartened and plays some great defensive tennis and then takes his opportunities 3- 2, King leads again 40/15 but Lewis again fight back to make 3-3. King takes the next 4-3, Lewis looks exhausted gasping for breath and again King is leading but yet again Lewis battle on 4-4. Momentum seems to shift and Lewis starts to lead, the tennis is sublime both playing well but Lewis pushes into the lead 5-4 and then powers his way over the line for a 6-4 victory to seal the first match.
Castellino and Ward
Castellino in demonstrating remarkable control takes the first two games, Ward is making very uncharacteristic mistakes. Ward finds some form making it 2-1. Castellino serving well stretches the lead 3/2. Castellino pushes on, Ward is still making errors questioning himself 4-2 Castellino. Castellino making the handicap work for him  pushes ahead, Ward looking frustrated . Suddenly Ward finds his form and  pulls a game back 5-3 again. Castellino manages to keep the momentum playing some great tennis and takes it 6-3.
YBBTR 2-0 up
Johnston vs Roberts
Johnston off to a flyer playing well and Roberts has no answers, nerves are getting the better of the YBBTR captain, will he lose to love he finds a little form 3-1 and again Roberts seems to be fighting back 3-2. Johnston hold his form Roberts has lost himself and his footwork – he is all over the show Johnston pull ahead 4-2  and then 5-2 and then 6-2 no real resistance from Roberts in the face of Johnston's error free tennis.
2-1 (14 games to 13)
Lewis and Castellino vs. King and Ward
The young duo hold their cool putting the pressure on. Castellino and Lewis battle hard but some great tennis and a few errors and they fall 6-3.
2-2 (17 -19 in games)
Lewis Roberts vs King Johnston
Roberts serves first the to take the game to love 1-0, King and Johnston take the second 1-1. Lewis & Roberts take the 3rd 2-1. It goes with the handicap till 3-3, the battle is between King and Lewis. Johnston and Roberts make the occasional guest appearance but Lewis is on fire and before you know it. The score is called 6-3 Lewis Roberts
3-2 (23-22)
Students need to win 6-4 to take the championship 6-5 would be a draw!!
 The final set all still to play for playing off level. Ward and Johnston are under pressure Castellino and Roberts serve well and play steady tennis and errors are being made by the young gun, Roberts and Castellino are suddenly 4-1 up only needing one more game to ensure a draw.  Ward finds his form and battles with Castellino everything comes back and now it is Castellino and Roberts making the errors, momentum shifts 4-2, 4-3 4-4 the crowd is cheering the students on, the students take the lead 5-4 only needing one game to clinch the victory and displace the 5 time winners. Roberts and Castellino find their composure and are 40-15 up, but the students refuse to accept defeat 40-30 40-40 and then Ward pushes back and Castellino digs a ball out but only can find the net the match is over and an era has ended – student victorious!!
3-3 28-27
Roberts has not only lost his tooth but his foot work and touch failed him. A deserved victory and congratulations Fahey's children and thanks to a great set of supporters who added an extra dimension to an enjoyable final. Special thanks to Chris and Seth for some exceptional marking!
 'The key to winning is poise under stress'
This was shown by Ward and as agreed by both captains man of the match although the set of the match was definitely the awesome battle between King and Lewis – sublime tennis!