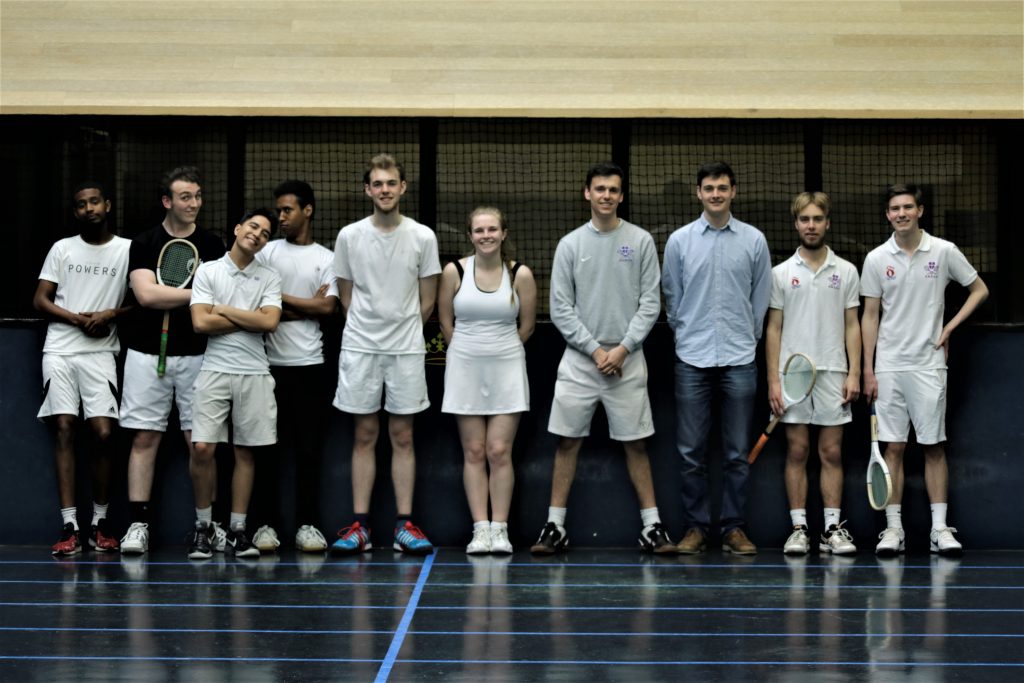 On Thursday 13th of April, Middlesex University played Durham at MURTC in what now seems to be a yearly fixture. The day was hard fought by both sides, with Middlesex managing to win 5-4.
First up on court for MURTC was Connor Holmes against Georgie Lacey-Solymar. It was a tentative start from Connor, making some uncharacteristic errors which cost him heavily on the owe 15 receive 15 handicap. Georgie played well and took an early lead, which proved to be too much for Connor. Georgie wins it 8-4.
Second up was Sam Asgedom against Durham's Harry Knowlton. Unfazed by the tricky and fast pace of play, Sam's relentless retrieving shone through and he went on to take the match 8-5.
Lennox "The Hurricane" Johnston took to the court to face Durham's Charlie Drew. No stranger to the Middlesex court, Charlie produced excellent serving to keep pressure on his opponent. Lennox however found his range from the start, producing intelligent tennis and taking an early 6-0 lead. This proved to be too much and he went on to take the match 8-2.
MURTC's student intern Georgina Allen now stepped up to play George Skinner. Both talented Lawn Tennis players, it was clear this game would be a tussle. The match went point for point in one of the more intense matches of the day. Both sides played fantastically, but with consistent play and great shot selection, Georgina went on to win 8-6.
Najib has had an impressive year, dropping 30 handicap points since picking up a racket in November, had he met his match in Durham's Matt Brooks? Spectators could tell that this was going to be hard fought from both sides. The two started well, exchanging impressive rests and covering the court well. Matt soon found his feet on our bouncy court and was able to adapt his rackets skills, using the main wall to create some uncomfortable angles for Najib. Matt went on to take the match 8-3.
Last up, Josh King to play Oliver Taylor. The unfamiliar court caused some problems for the Durham player at first, falling behind 4-2. As the match went on, Oliver upped his game and found good length, winning the match 8-5.
Middlesex went on to win two of the three doubles.